Psychiatric Hospital
Mission
The Psychiatric Hospital shall work proactively to provide secondary and tertiary healthcare services to the residents of the Kingdom of Bahrain. We hope to do so by making the best use of our available resources and by promoting quality improvement initiatives and establishing guidelines in the organization. We also aim to increase awareness towards personal responsibility for health maintenance, in addition to functioning as a teaching and training Hospital.
Values
Professional Ethics
Expect all Psychiatric Hospital Staff to adhere to a professional code of ethics.
Equality
Provide access to high-quality diagnostic, therapeutic and rehabilitation services to all the citizens of the Kingdom of Bahrain equally.
Continuous quality improvement
Promote the concept of quality improvement in the organization and coordinate such activities.
Communication
Involve clients, both internal and external, in decision-making by opening up communication channels.
Staff empowerment
Provide adequate training and promotion opportunities to Psychiatric Hospital Staff, based on their needs and perfomances repectively.
Multidisciplinary Team Functioning
Ensure ease of operation with in multidisciplinary teams.
Decentralized Decision Making
Establish accountability as an introduction to decentralization.
Value for Money
Provide best value for money in terms of effective and efficient high-quality services with proper resource utilization.
Patient Focused Services
Shift priorities to clients' focus in high volume, high risk and problem-prone areas.
Personal Responsibility
Encourage clients' personal sense of responsibility towards their health by increasing awareness and health education.
Commitment to Strategic Direction
Work in alignment with the MOH strategic plan.
Psychiatric Hospital Campus Map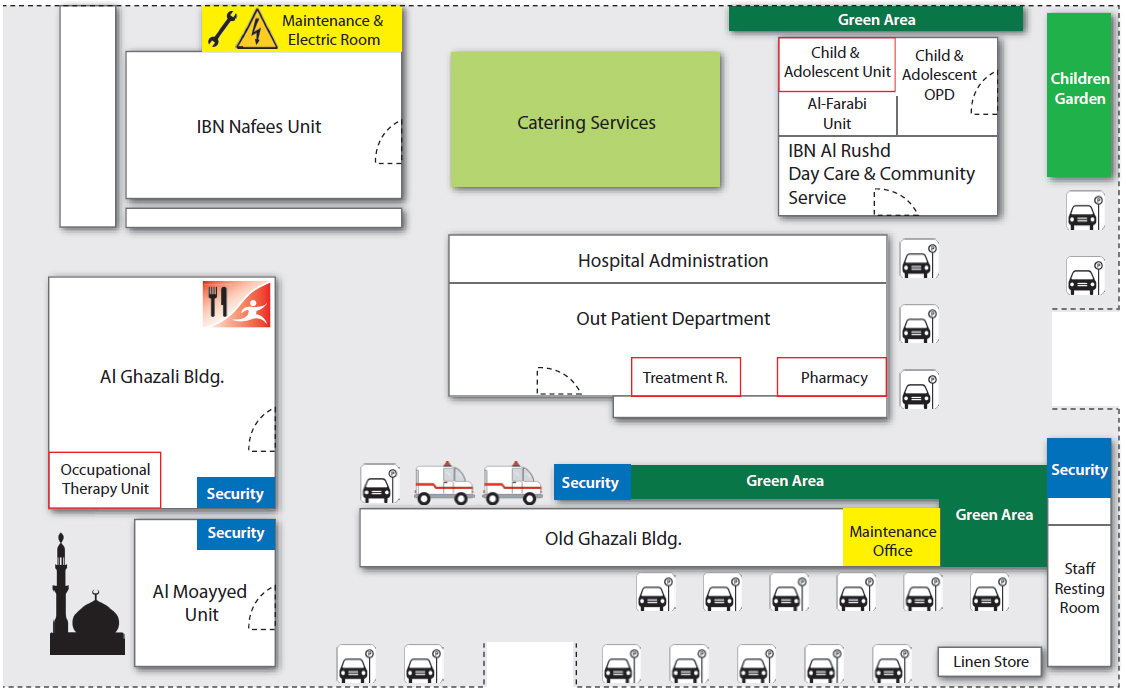 Contact Us
Main Switch Board
Tel: +973-17288888
Hospital Administration
Tel: +973-17279301/+973-17279309/+973-17279305
Fax: +973-17279363
Email: anajjar@health.gov.bh
Appointments & Referrals
Tel: +973-17279311
For more information about the Psychiatric Hospital please
click here